Overview:
A VTE alert was accidentally turned off in a clean-up of legacy alerts

Identifying the broken VTE alert helped mitigate the possibility of future safety events.
PROBLEM
To help reduce VTE, the hospital developed a range of clinical decision support (CDS) including interruptive alerts based on patients' risk for VTE. During a version upgrade to the health system's electronic health record, one of these VTE alerts had been unknowingly turned off.
APPROACH
As part of the hospital's Harm Prevention Program, a physician informaticist began reviewing and evaluating VTE-related CDS.
While reviewing alert firings in Phrase, the physician informaticist noticed a sharp dropoff. Phrase's visualization of firings over time showed 1.5 months of zero firings. This prompted him to look in Phrase at the alert's history of updates and then reach out to the IT team to determine the cause of the breakage. The group realized it was accidentally deactivated along with a group of Meaningful Use (a regulatory program) alerts that were no longer needed.
RESULT
By using Phrase to identify the broken alert, the team reinstituted a patient safety check that helps avoid future incidents. The discovery of the breakage also re-emphasized the importance of clear interdepartmental communication to ensure this type of activity didn't happen again.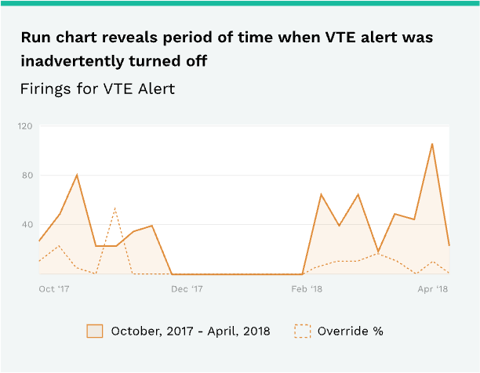 Phrase helps you drive quality improvement and clinical outcomes through our advanced healthcare technology.