Overview:
A cross-functional team built and monitored an EHR intervention reducing unnecessary orders to the lab.
The resulting project saved time and materials related to the decrease in collecting, handling, and disposing of the samples

.
PROBLEM
At a large pediatrics research hospital, several stool samples for GI cultures were collected and sent to the lab but ultimately discarded due to the presence of community-acquired diarrhea. This excessive testing was an unnecessary drain on physician, nursing, and lab resources.
APPROACH
The Lab Technician / Quality Improvement Specialist first recognized the over-ordering and attempted to educate clinicians to avoid ordering the samples. When it was determined this approach was having a limited effect, she partnered with a nurse and the informatics team to design and monitor an alert. They built the alert to suggest removing the order for a stool culture if the patient was hospitalized for more than four days.
After implementing the alert, the specialist leveraged Phrase Health to review the providers' actions. By assessing the frequency of the order removal, she was able to clearly identify the success of the intervention. Moreover, Phrase Health not only provided her additional granularity to determine which units needed further education, but the specific doctors and nurses that could use coaching.
Even after the specialist transitioned off the project, the lab team uses Phrase to sustain the change. Her replacement reviews the alert's performance every month with her manager. When there is a high rate of ordering without appropriate approval, she leverages Phrase data to identify the clinicians she needs to inform and educate.
RESULT
The alert and subsequent monitoring drove a consistent monthly decrease in ordering stool cultures that were later being rejected. This was a clear win for not only the hospital's quality improvement group and lab but ultimately their patients. Not only was the project able to save time and materials, but it caused fewer draws from the patient. Moreover, it helped demonstrate the lab's interest and capability to identify, implement, and sustain improvement.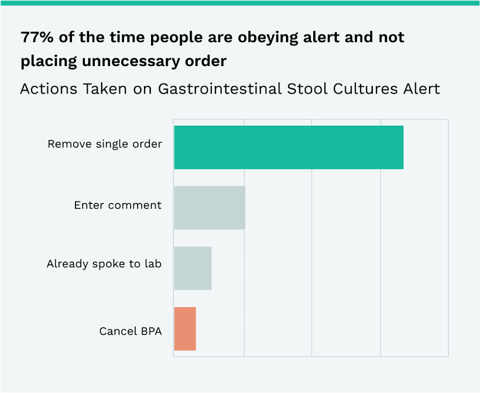 See how Phrase helps you drive quality improvement and clinical outcomes through our advanced healthcare technology.